Nothing motivates people like war. That's how the Great Wall of China got built--they were protecting themselves against enemies who lived to the north.
But that wall is hardly the only time we've changed the face of the planet in the name of winning a war. Some of the ass kickings unleashed with ancient empires on the line were so mind-boggling, the Earth still hasn't recovered.
The Punic Wars were a series of conflicts fought between the forces of ancient Carthage and Romebetween 264 BCE and 146 BCE. The name Puniccomes from the word Phoenician (Phoinix in the Greek, Poenus from Punicus in Latin) as applied to the citizens of Carthage, who were of Phoenician ethnicity. As the history of the conflict was written by Roman authors, they labeled it 'The Punic Wars'. Carthage grew from a small port-of-call to the richest and most powerful city in the Mediterranean region before 260 BCE. She had a powerful navy, a mercenary army and, through tribute, tariffs, and trade, enough wealth to do as she pleased. Through a treaty with the small city of Rome, she barred Roman trade in the Western Mediterranean and, as Rome had no navy, was able to easily enforce the treaty. Roman traders caught in Carthaginian waters were drowned and their ships taken.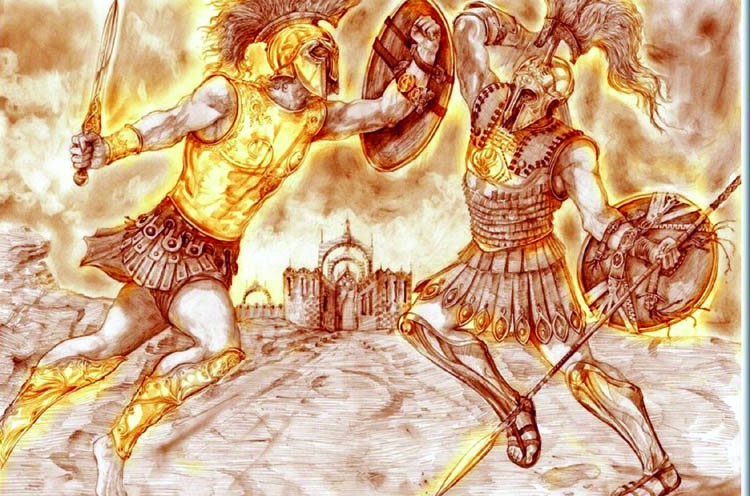 The warrior Achilles is one of the great heroes of Greek mythology. According to legend, Achilles was extraordinarily strong, courageous and loyal, but he had one vulnerability–his "Achilles heel." Homer's epic poem The Iliad tells the story of his adventures during the last year of the Trojan War.