Helicopters in the military perform a variety of roles. Some are built specifically for speed and attack while others offer transport and support functions. What are some of the best-known advanced military helicopters and what types of operations are they used for?
Advanced military helicopters come in all shapes and sizes and are used for a wide range of purposes. Attack helicopters, for example, can reach high speeds and are well armed, while transport helicopters are bigger and can carry a much heavier payload. Multirole or utility helicopters must be good all-rounders in all environments.
What are the different types of advanced military helicopters and where are they used?
Attack helicopters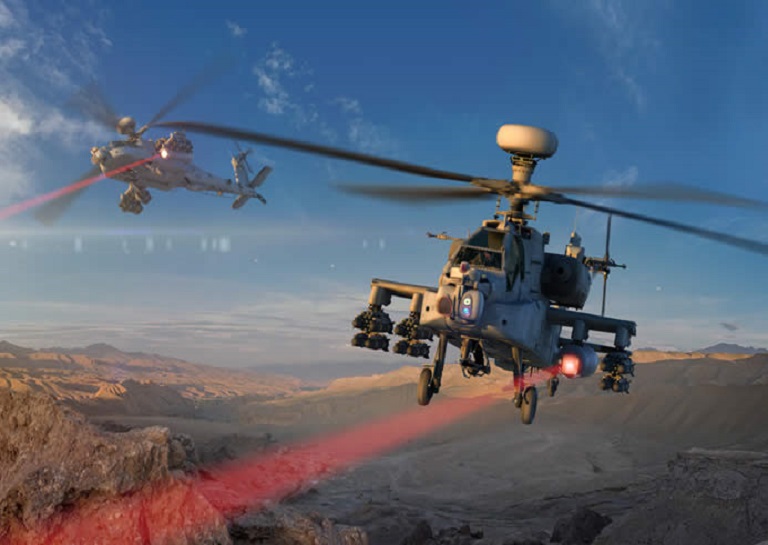 Attack helicopters, armed helicopters, helicopter gunships; these aircraft are designed for one purpose –  firing on enemy troops and vehicles. Whether it is providing close air support for ground troops or destroying enemy armed vehicles and tanks, the attack helicopter is built for speed and comes heavily armed with an array of autocannons, machine guns, rockets and missiles.
Take the Boeing AH-64 Apache for example, which holds an M230 chain gun with 1,200 rounds, along with four hardpoints for the carrying of Hydra 70, CRV7 or APKWS air-to-ground rockets and AGM-114 Hellfire missiles. The Apache can also carry the AIM-92 Stinger air-to-air missile for aerial defence and Spike anti-tank missiles.
Attack helicopters also come with advanced radars for targeting enemies and guiding projectiles. Variants D/E of the Apache use the AN/APG-78 Longbow fire control radar developed by Lockheed Martin and Northrop Grumman.
Search and rescue helicopters
Above all, search and rescue helicopters must be durable, agile and packed with the latest avionics and radar systems to navigate all types of terrain and weather conditions while seeking personnel on land and at sea who need vital assistance.
The AgustaWestland AW101 is an iconic search and rescue helicopter in this respect. Most variants of the AW101 come with self-defence systems such as infrared jammers, laser detection, and some carry arms such as Sting Ray torpedoes or Mk11 Mod 3 depth charges.
However, since the primary role is search and rescue, a good helicopter needs the latest avionics to detect soldiers in critical situations and the AW101 comes with a variety of tech to meet this challenge. In particular, the Blue Kestrel search and detection radar offers 360-degree scanning and can detect small targets from 25 nautical miles away.  The AW101 is known as the Merlin in most European air forces, while it is designated the CH-149 Cormorant in the Royal Canadian Air Force.
The AW101 doubles up as a maritime helicopter and can be fitted with anti-submarine warfare armaments such as torpedoes and depth charges. In this role, they can work in tandem with frigates and destroyers as part of a comprehensive naval fleet.
Transport helicopters
Transport helicopters are designed to fly large groups of troops, light vehicles and cargo near to the battlefield and thus need to be able to carry significant amounts of weight, both internally and underslung, as well as being relatively quick. Transport helicopters can be more useful than winged aircraft in some scenarios due to the ability for helicopters to land on most flat land without a runway.
The most recognisable transport helicopter is arguably the Boeing CH-47 Chinook used by the US Army, which can travel at a max speed of around 315km/h – making it faster than many attack helicopters. However, the best transporter by weight is the Russian-developed Rostvertol Mil Mi-26. The Mil Mi-26 is a mammoth at just over 40m in length.
While the 30.1m long Chinook has a payload capacity of 10,886kg, the Mil Mi-26 can carry up to 25,000kg and has room for 90 troops, compared to the Chinook's 55-troop maximum.
Observation helicopters
Advanced military helicopters also have a role to play in terms of intelligence-gathering and reconnaissance. Observation helicopters have been used for activities such as calling in and directing air strikes and can guide anti-tank missiles or laser-guided bombs fired from other aircraft.
The main tool of the observation helicopter is its suite of sensors and communications equipment. Observation crews are supported by forward-looking infrared cameras, low light level televisions and multi-functional laser systems for range-finding or targeting purposes.
The Bell OH-58 Kiowa, currently in use with nine armed forces worldwide, comes armed with Hydra 70 rockets and AGM-114 Hellfire missiles but in much lower quantities than attack helicopters. The weapons are usually added for destroying an enemy's reconnaissance equipment, rather than for air skirmishes.
The OH-58 Kiowa weighs only 2,500kg when fully loaded, which makes it perfect for its role as a stealthy reconnaissance aircraft. An attack/reconnaissance variant – the OH-58D Kiowa Warrior – also exists.
Utility helicopters
Last but certainly not least, the utility helicopter must strike a balance to perform all aforementioned activities such as conducting ground attacks, air assault, reconnaissance, troop and equipment transport, and medical evacuation. To this end, utility helicopters are highly versatile.
The Bell CH-146 Griffon, which is currently being upgraded by the Royal Canadian Air Force, is a typical example. As is the iconic Sikorsky UH-60 Black Hawk, which gained notoriety during the Battle of Mogadishu in 1993, when Somali forces shot down a US Army Black Hawk helicopter.
The Black Hawk has a good top speed of 295km/h, can carry a 4,100kg external payload and can be fitted with guns, rockets, missiles and even the Volcano minefield delivery system. The Griffon comes with additional thermal imaging systems and night vision for advanced reconnaissance.